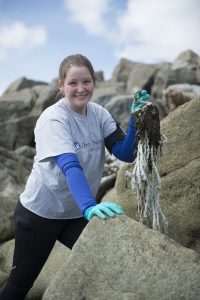 It all started with a couple cleanups in 2000 around Earth Day. In 2001, our beach cleanup program began in earnest when we adopted Jenness Beach as part of the National Marine Debris Monitoring Program. That program has ended, but our cleanups continued, and have expanded into year-round public cleanups, an Adopt-a-Beach Program, the New Hampshire Coastal Cleanup in September, cleanups with schools and businesses, and even cleanups at the Isles of Shoals. At our cleanups, we collect data on the litter we find so that we can use it in educational programs, develop targeted pollution prevention initiatives, and inform resource managers and litter policies.
What's the Problem?
Litter on the beach such as cigarettes, food wrappers, straws and bottle caps can affect marine life, who accidentally swallow them, or feed it to their young. Balloons, an item frequently found at our cleanups, can be eaten by whales and sea turtles, where they can clog the animal's digestive tracts, making it impossible for them to eat normally. Fishing line and rope, found in high numbers at our cleanups each year, can entangle marine life, and also harm humans. We've often found fishing lures and hooks attached to this line on the beach – imagine stepping on this while you're out for a stroll!
Take Action Against Marine Debris!
Join a Cleanup!  Click here for info on public and group cleanups
If you're picnicking at a beach or on a boat, make sure you keep control of your trash and don't let it blow around.
At the beach, try to pick up a few pieces of trash that others have left behind, resulting in a cleaner area for all of us. Maybe someone will see you and get the hint!
Help educate smokers on the amount of cigarette butts that are around and the fact that it takes a minimum of one year for a cigarette butt to break down. If every smoker threw even one less butt on the ground every day, our beaches and sidewalks would be a lot cleaner!
If you fish or go boating, do not throw fishing line overboard. Visit our web site at www.nhmarinedebris.org for locations of our fishing line recycling bins or contact us for more information on recycling your fishing line. Monofilament can take 600 years to break down!
What Are We Finding?
In 2017, volunteers spent 4,811 hours cleaning up beaches in New Hampshire, collecting about 74,000 pieces of litter that totaled 7,438 pounds.
Commonly found items in 2017 included cigarette butts (33,030), rope (4,580 pieces); plastic bottle caps (4,334), plastic bags (4,161), and plastic and foam pieces (7,721). In addition, volunteers picked up 40 "Hooksett disks" last year —small white circular shaped mesh disks, approximately two inches in diameter, from the accidental spill from the Hooksett Wastewater Treatment Facility in March 2011.
Want to see more cleanup data? Click below for fact sheets on our 2017 cleanups:
Thank You
Thank you to the following businesses who have conducted cleanups and also donated in support of our cleanup efforts.
Liberty Mutual/Give with Liberty
NextEra Energy Seabrook Station
Kohl's
Altria Group
Enel Green Power
Aquaculture Education and Research Center
Thanks also to the New Hampshire Coastal Program for their continued support!