A Tale of Traveling Trash: the Story of the Hooksett Disks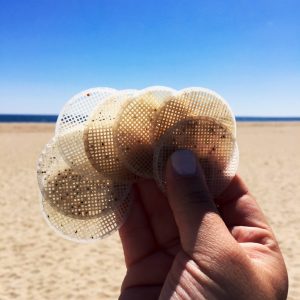 On March 6, 2011, over 4 million plastic disks were accidentally discharged from the wastewater treatment plant in Hooksett, NH.  A major cleanup effort was organized, but we are still finding these disks on area beaches and getting reports of them from other locales.
Click here to view a Story Map about the disks, and explore disk reports from around the world
Have you found a Hooksett disk? We'd love to know where you found it!
Report Disk Sighting
Coming Soon:
Other Traveling Trash: A story about lobster trap tags
Activities/Classroom Activities
Acknowledgements
Thanks to Mike Toepfer of UNH Cooperative Extension for assistance with this project!