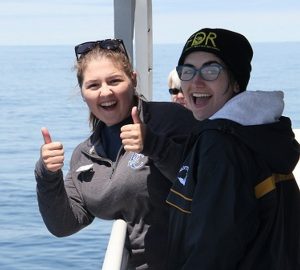 We strive to share our love of marine life with the public in the hope of spreading greater awareness of the Gulf of Maine and inspiring environmental stewardship.   Through conducting research and education aboard local whale watching vessels, we reach over 25,000 people each year and collect data on hundreds of whales.
The whale watching season runs from mid-May through late October.  Whale watching is a great experience – you never know what you'll see!  Through whale watching aboard one of our recommended vessels, you'll also be supporting our research and education efforts!  Each company is separate and makes their own schedules and reservations. Please contact companies directly to make your reservation. Reservations are highly recommended, especially during July and August.
Recommended Whale Watch & Tour Companies
Capt. Bill & Sons Whale Watch, Gloucester, MA: Naturalist-led whale watches aboard the Miss Cape Ann, (800)339-4253. Facebook page
Granite State Whale Watch, Rye, NH: Naturalist-led whale watches aboard the Granite State,  (603) 964-5545. Facebook page
Isles of Shoals Steamship Company, Portsmouth, NH: Isles of Shoals tours, school field trips, and charters aboard the Thomas Laighton (603) 431-5500.
What to Expect
Check out this video (best viewed in HD) of what you might see on a whale watch, and how you will learn about marine life! Thanks to Ryan and Seamus from Small Town Pictures for producing this video!
Naturalists & Educational Programs
Our staff and associate scientists work aboard boats at each of the companies above. On whale watches, naturalists and interns collect valuable research data, but their main role is education. An experienced naturalist can make the difference between a good and bad trip!
Our staff and associate scientists all have several years' experience observing local marine life, and are available to communicate what's going on during your trip. We also have many educational displays and visuals for both adults and children, including real whale baleen, children's books, fact sheets and posters!
How to Prepare for a Whale Watch
It's usually 10-15 degrees cooler on the water, so make sure to bring extra layers. Wear sturdy shoes and take motion sickness medicine before you board the boat if you're prone to seasickness.  Forgot your camera? Don't worry – for a nominal donation, you can usually purchase the photos taken by your naturalist. These are taken using professional-quality digital cameras and you get a copy of every photo taken on the trip! Ask your naturalist or a volunteer/intern on board the boat for details.