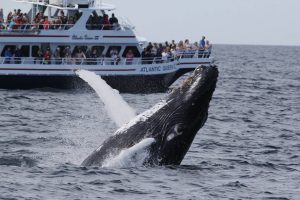 While aboard the commercial whale watching trips, we record sightings of all marine mammals (whales, dolphins, seals) and other species of interest, such as sharks, fish and seabirds. We also collect digital images of the whales' natural markings to identify and track individual whales, and maintain a catalog of local fin and humpback whales.
In addition, we record environmental data such as weather and sea conditions, ocean temperature, the presence of potential threats, and other vessels in the area.
Current Research Projects
Identifying and cataloging local fin and humpback whale populations
Studying the distribution of whales, basking sharks and ocean sunfish
Investigating long-term trends of social groups
Why Study Whales?
Whales are important species in the Gulf of Maine, and their health can serve as indicators of the health of the Gulf of Maine overall.  The data we collect is unique and can provide valuable information that can help resource managers develop policies that ensure the health of whales and the Gulf of Maine as a whole.
Interested in getting involved?  Check out our volunteer or internship program, or meet up with us at one of our events!