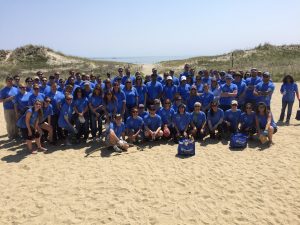 If your school, club, business or company are interested in getting out and helping the local community, a beach cleanup is a great way to get involved!
Requirements
For a group cleanup, we require at least 10 volunteers and can accommodate up to 150 people (contact us if you have a group larger than 150).
What to Expect
Cleanups typically last for about 2 hours, including a short introduction at the beginning about marine debris and why it's important that we gather this beach debris data. At the end of the cleanup, we'll weigh the trash and discuss what was found.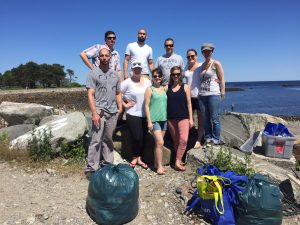 We will provide all the supplies including bags, gloves, and data sheets. Volunteers are encouraged to wear work gloves to minimize our use of disposable gloves, and bring water in a reusable bottle. We suggest participants dress in layers and wear sturdy, close-toed shoes for safety.
Cleanups are conducted rain or shine. For more information about what to expect, please read our beach cleanup guidelines. There's no cost for the cleanup but donations are always accepted and appreciated. Request a cleanup date or more information using the button below!
Book a Cleanup!
---
Thank You
Thank you to the following businesses who have conducted cleanups and also donated in support of our cleanup efforts.
Liberty Mutual/Give with Liberty
NextEra Energy Seabrook Station
Kohl's
Altria Group
Enel Green Power
Aquaculture Education and Research Center
Thanks also to the New Hampshire Coastal Program for their continued support!