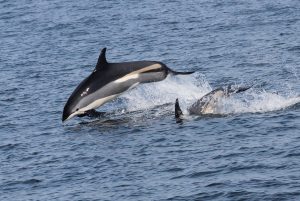 Wouldn't it be wonderful to go through an entire season without an entangled whale?  To visit the beach and never see litter? Our vision is a thriving marine life in the Gulf of Maine with citizens committed to environmental stewardship.
Mission
Our mission is to protect marine life in the Gulf of Maine through research, education and inspiring action.
We achieve that mission through the following major programs:
Researching the behavior and populations of Gulf of Maine fin, humpback and minke whales.
Educating people about marine life and human impacts through hands-on experiences, including beach cleanups, whale watches, school programs and our Blue Ocean Discovery Center in Hampton Beach.
Inspiring and taking action through marine debris cleanups, pollution prevention campaigns and introducing simple behavior changes anyone can take to benefit Gulf of Maine marine life.
Recent Accomplishments
In 2015, we conducted education and research aboard 388 whale watch trips aboard 3 boats in Rye,  NH and Gloucester, MA. During these trips, we educated more than 27,000 passengers and documented hundreds of individual whales. This work allows us to monitor population health, habitat usage, and risks including entanglement and ship strikes.
In 2015, we conducted 202 beach cleanups along the coastline from southern Maine to northern Massachusetts. This resulted in the removal of over 6,000 pounds of debris from the coast.
In 2014, we worked with several partners to conduct the first underwater lobster trap cleanup in New Hampshire waters, which resulted in the removal of 24 inactive traps, over 400 pounds of rope and the release of many invertebrates.
Our long-term database of the whales near Jeffreys Ledge is the only one of its kind. It allows us to learn about this unique habitat- a place important for whales and other marine life to feed, along with several human uses such as whale watching, fishing and boating.
In 2013, we established the first marine education facility in Hampton Beach, NH. Our Blue Ocean Discovery Center has welcomed more than 50,000 visitors since it opened. We also offer hands-on educational programs to over 5,000 students each year in schools throughout New England.
As the only New Hampshire-based marine mammal internship program, we have hosted 120 student interns since 2002 and provided a crucial step in these students' career paths.