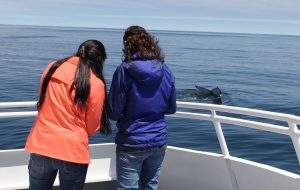 Focus Areas
All interns will experience all of our programs, but you have the opportunity to list preferred focus areas in your application:
Whale Research and Education Focus:
Interns will work primarily on whale watches, which will consist of 1-2 whale watch trips daily, up to 5 days/week (June-August). Trips are 4-5 ½ hours each. On these trips, you will be searching for whales and other marine life, recording detailed data on animals and marine debris, interacting with passengers of all ages and backgrounds, and explaining teaching tools such as baleen and whale sounds. You will also be given the opportunity to give short presentations over the PA system if desired.
While most of your time is spent on the boats, there will be times when you will work in the office entering data, assisting with mailings, helping at Blue Ocean Discovery Center and other fun tasks.
Shore-Based Education Focus:
Interns will inspire people to protect the marine environment while introducing them to some of the Gulf of Maine's smaller marine life! This focus primarily involves teaching thousands of visitors at Blue Ocean Discovery Center in lively Hampton Beach about local marine life, interpreting displays and conducting daily beach cleanups. The Center has 3 tanks and several engaging exhibits and activities. There may also be the opportunity to work with students during school field trips on the M/V Thomas Laighton in Portsmouth, NH and at our outreach programs and beach cleanups.
Click here to view the Blue Ocean Discovery Center Facebook Page