Internship Application Deadline: March 1
All materials, including recommendation letters, must be postmarked or emailed by March 1.
How to Apply
We are looking for enthusiastic, motivated people to join us for 10-12 week sessions throughout the year. Summer positions are the most diverse and competitive.
Summer Internship Description
Summer Interns work one-on-one with our researchers/educators aboard commercial whale watch boats in the beautiful Seacoast, New Hampshire and northern Massachusetts areas, at our Blue Ocean Discovery Center in Hampton Beach, NH and at our outreach programs. Check out our internship Focus Areas.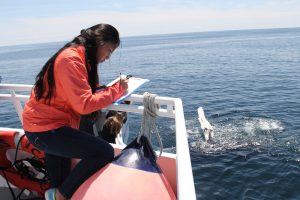 This internship will give you the opportunity to gain hands-on experience in whale research, data collection, educational techniques and the inner workings of a non-profit organization. You will attend guest lectures to expand your insight into the expansive field of marine biology, assist with beach cleanups and school programs, as well as have to opportunity to help at our Blue Ocean Discovery Center in Hampton Beach. This is a fun and exciting opportunity to experience the daily challenges of studying wild marine life on the ocean in all weather conditions and also interact with and inspire the public to take action to protect marine life.
The ideal candidate will be outgoing, enthusiastic, detail oriented and have a strong desire both to learn and teach. A desire to practice or improve public speaking skills is essential. Background knowledge of biology is helpful, but prior experience is not necessary. Although all training is provided and weekly meetings are required, we are looking for motivated individuals who have the ability to learn on their own and work independently in addition to working with our staff.
Click here for more information.