Support our research and education efforts, and learn about whales all year long!  Whale adoptions make a great gift for yourself or a loved one. There are 9 local whales to choose from, and all have been sighted regularly over our 20 years of research!
Your adoption kit includes: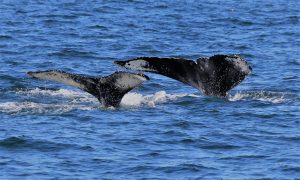 5"x7" color photo of your whale
Sightings history
Personalized adoption certificate
Full-color species fact sheet
Blue Ocean Society decal, and a one-year subscription to our newsletters
Sightings updates of your animal via e-mail and in our newsletter
Adoptable Whales:
Humpback Whales:
Owl– is female, born in 1986. She has a large scar on her back from a boat collision when she was just a few years old, but she appears to be doing fine. Owl was named for the markings on her flukes which resemble the eyes of an owl. She is regularly seen in our area!
Pinball– is female, born in 1989.  She was named for the black dots all over her flukes, resembling pin balls bouncing around.  Some years she prefers to spend her summers further north, however more often than not, she is seen regularly in our area.
Satula– a presumed male, was first seen in 1988. When we first saw him in our area, he had a large dorsal fin. During the summer of 2002, he arrived without that fin on his back, but no other signs of trauma. It is still unknown how he lost his fin but he is seen in our area annually.
Hornbill– a presumed male. This aloof guy used to be seen only occasionally. More recently, he has been one of our regulars, spending many days in our area each summer.
Fin Whales:
Ladder– a presumed male, first seen in 1988. His distinctive scar on his right side is evidence that he was hit by a boat. He also gets his name based on this scar, which resemble the rungs of a ladder.  Ladder is often seen hanging out with other fin whales.
Fjord– a presumed male.  He was first identified by our staff in 1996, Fjord is frequently sighted in our area, primarily in the spring.  Many years, he is sighted during the first week of our whale watching season!
Comet– female, first identified in 1997. She has brought two calves to our area and gets her name from her distinctive entanglement scars on her right side, resembling the tail of a comet.
Dingle– a presumed male, first identified in 2003.  He has been a regular to our area over the past decade . He is sometimes seen with other fin whales.
Minke Whale:
Scar– first identified in 1995, this minke whale is distinctive due to his scars- one from a boat collision, and one from an entanglement. He is a survivor, and often swim close to out boats. He has been seen nearly every year since 1995!