What can you do to help marine life? There are lots of simple things you can do at home and work that will help the health of the oceans, and help protect marine life. Here are some ideas, and some links for more information.
Donate, Volunteer, or Adopt a Marine Creature
By supporting Blue Ocean Society with a donation or marine creature adoption, you will enable us to educate thousands about the importance of marine environment, monitor and protect whale populations in the Gulf of Maine and beyond, and clean beaches to make them safer for wildlife and people. To donate, adopt a marine creature or purchase Blue Ocean Society apparel an other merchandise, click here.
Take surveys online at Op4G. It's free and simple! Click here
Check out our new partner, Gells!

"Gel" your look together with their signature belt, which is versatile enough to take you from the beach to the boat, and from day to night!

5% of each navy belt purchase supports our education, research and conservation efforts! Click here to make your purchase!
Designate us as your beneficiary on Amazon Smile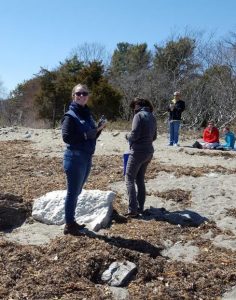 Join a Beach Cleanup
Marine debris is a pervasive problem along our coasts and in the water, but its effects are not always tangible. There's one thing we know for sure – the more trash we get off the beach, the less that will wash in the water or impact marine life. An hour or two of your time could make a huge difference to the beauty of our beaches and the health of a marine animal.
Blue Ocean Society beach cleanup schedule: Click here
International Coastal Cleanup (cleanups acrossthe U.S., and the world! Usually each September): Click here
You can also email us for resources on how to start your own beach cleanup.
Discarded fishing line can last in the marine environment for hundreds of years, and although it may break into smaller pieces, it never really breaks down entirely. Along the way, it can entangle marine life such as whales, fish and sea birds. The best way to prevent that is by disposing of your fishing line responsibly, through recycling or in a (covered) trash bin if no recycling is available.
We have recycling bins located along the NH coast, at several locations. These include Rye Harbor Marina, Wentworth Marina, and Great Bay Marine. For more about our fishing line and fishing gear disposal programs, visit www.nhmarinedebris.org.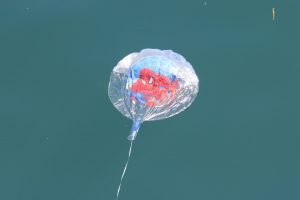 Pop Balloons Before Disposal
If you release a balloon into the air, chances are it will end up in the ocean or another water body. There, wildlife can mistake it for food, or get entangled in balloon spring. Please pop your balloon when you are finished with it, and throw it in the trash.
Recycle, repurpose and reduce your use of plastics and disposables
Plastics are everywhere you look. Not just in the Great Pacific Garbage Patch, but in local "garbage patches" where currents come together, and along our roadways and in our local parks. Reduce use of plastic by buying items with less packaging, not using plastic bags, and buying items made of recycled or non-plastic materials whenever possible.