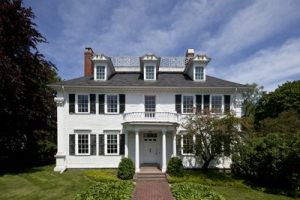 Office and Mailing Address:
143 Pleasant Street, Portsmouth, NH 03801
Our office is located in the Governor John Langdon House in Portsmouth (across from Citizen's Bank and the municipal parking lot)
Phone:  (603) 431-0260
E-mail Addresses
Blue Ocean Discovery Center Address:
180 Ocean Boulevard, Hampton, NH 03842
The Blue Ocean Discovery Center is located North of the Sea Shell stage and across from the Hampton Beach Casino Complex.
Directions to our office in the Gov. John Langdon House, 143 Pleasant Street, Portsmouth:
Take I-95 to Exit 7 (Market Street). Head toward downtown Portsmouth. Bear right after the railroad tracks (the Portsmouth Sheraton, a red brick building, will be on your left). Turn right onto Deer Street. Turn left onto Maplewood Avenue. Turn left onto State Street. Turn right onto Pleasant Street. Langdon House is one block down on the left. It is a big white house with a gate in front of it. If there is no parking in the driveway, on-street metered parking is available or there is free parking available in the municipal lot across the street (next to Citizens Bank).