Last year, a heartbreaking video of a sea turtle went viral. This video showed researchers removing a 4-inch straw from the sea turtle's nostril.
Also last year, volunteers picked up more than 1,700 straws at our beach cleanups.  Nearly half of those were on Hampton Beach.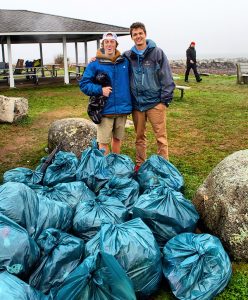 The Gulf of Maine is home to a fabulous array of marine life, including sea turtles, whales, fish and invertebrates that can be impacted by plastic pollution.  We had heard of other straw campaigns around the world, and wanted to implement something similar in our local communities.  There are lots of different types of litter, but straws are disposable items that aren't always necessary and we thought we could easily prevent some straws from ending up on the beach through an outreach campaign.
Along came two Proctor Academy students, Crowley Gentile and Alex Wycoff, who were looking for a senior project. For the final three and a half weeks of senior year, Proctor Academy students can design a project around their own interests and passions. As avid surfers, Crowley and Alex were concerned about the amount of plastic pollution on our local beaches and in our waterways.
Plastic straws are ingested by marine animals and are among the top 10 plastic debris found at coastal cleanups.  As part of their project, the students are trying to connect with business owners along Hampton Beach to challenge them to "skip the straw." The goal of the Skip the Straw campaign is to have servers at these restaurants ask customers if they'd skip the straw, in the hope that many people will decide it isn't necessary if the issue is brought to their attention.   They also hope to post signage at take-out and self-service counters encouraging patrons to skip the straw.
Businesses that pledge to participate in the project will receive recognition at our Blue Ocean Discovery Center, in our newsletters and on social media. They'll also receive a certificate of appreciation to post at their business that shows they are leading the charge to prevent litter on Hampton Beach.
Thanks to Crowley and Alex for getting this project going!  We'll be looking for students to help us continue this project.  For more information on how to volunteer or how your business can get involved, contact Jen Kennedy at jen@blueoceansociety.org or 603-431-0260.
Have you Skipped the Straw?  Take a picture and share it with us on Facebook, Twitter or Instagram with the hashtag #SkiptheStraw.
Learn More:
Image: Crowley Gentile and Alex Wycoff at a beach cleanup in Rye, NH