Last week I was at Dover Middle School, in a 6th grade class screening Bag-It the film. I was so pleased to see that on their whiteboard they had instructions on how to take an old t-shirt and repurpose into a reusable bag.
All the students had created a bag earlier in the day and some were already using them to hold their books, lunches, and other belongings. Below you will find the super quick and easy project to repurpose old t-shirts!
Materials:
Instructions: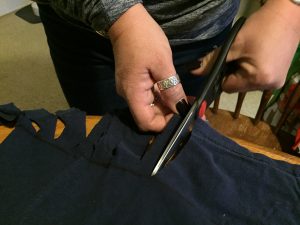 1. Choose a t-shirt. Keep in mind the size of the shirt makes your bag smaller or larger.
2. Cut off sleeves. To make them even fold the shirt in half first.
3. Cut neckline area.
4. Turn the shirt inside out.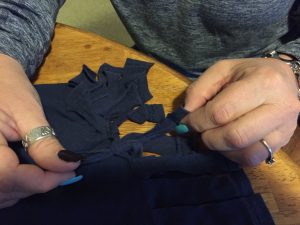 5. Cut a fringe along the bottom edge. You can use the marker to draw a line to make it even.
6. Tie the fringe together using double knots.
7. Turn shirt right side out.
8. Fill with goodies!