It was a brisk 20 degrees out, but 40 volunteers showed up to clean Jenness Beach on Saturday at our first cleanup of the  year.
The cleanup was a big success, depending on how you look at it.  On one hand, volunteers removed 41 pounds of litter on the beach. On the other, it's sad that we can still find 40 pounds of litter on the beach in January.
The volunteers picked up more than 1,112 items, including:
1 Glove
6 Nets/bait bags
1 Piece of fishing line
7 Pieces of rope
3 Condoms
2 Beverage cans
10 Glass beverage bottles
7 Balloons
27 Straws
34 Piles of dog waste (9 were in bags)
16 Plastic bags
9 Plastic bottles
73 Plastic bottle caps
318 Cigarette butts
22 Styrofoam cups
4 Strapping bands
316 Pieces of plastic
143 Pieces of foam
We're still finding those Hooksett disks!  Volunteers picked up 3 of them on Saturday. These disks were from an accidental spill in March 2011, in which over 4 million of them were released into the Merrimack River.
We also found 2 nurdles.  Nurdles are pre-production plastic pellets that are used as raw materials in the manufacture of plastic products. These small, lentil-sized pellets are easily transported and then melted together to make larger plastic products, such as bottles or toys.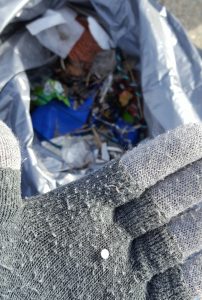 Other interesting items found were several toys, a sock, a soccer ball, a tea bag, an ice cream cup, 3 Band-Aids and 2 shotgun shells.
Our next cleanup is Saturday, February 11 at 10:30 AM at Jenness Beach. Join us!