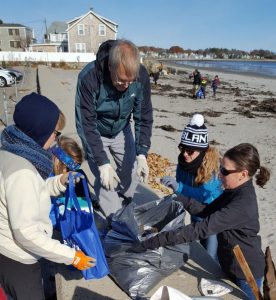 Pollution is one of the biggest threats to our ocean. Marine debris can injure or kill marine life through entanglement or ingestion. Every piece of plastic left in the marine environment can break down into microplastics, which can be eaten by any member of the food chain and even by humans. Removing debris from local beaches can reduce the hazard of debris to marine life and people. You can make a huge impact on the health of the ocean by adopting a local beach!
One of the important aspects of our beach cleanups is data collection. During the cleanup, volunteers use a data card to record what they find. This information allows us to illustrate the marine debris problem in our educational program, and is an important tool in helping us determine focus areas for our pollution prevention programs.
If I Adopt a Beach, What Am I Committing to? 
We'll expect you to:
Gather your group and clean the beach once per month, OR work with us to find a group to alternate with (e.g. cleaning every other month, just in summer or winter…). We ask for a one-year commitment if possible.
While you're at the beach, fill out data cards (provided) according to the trash you collect. Weigh the trash using the scale we'll provide you.
Bring the trash to a local dumpster or dump (or in some cases, we've arranged for town or State pickup).
What does Blue Ocean Society Do?
Coordinate cleanup dates with your group leader. Post your dates to our public cleanup calendar if you'd like us to.
Provide orientation to your volunteers before you begin your first cleanup, and be available for consultation throughout your service time.
Provide all supplies, including gloves, trash bags and data cards.
Provide background information for you to give your volunteers.
Provide media recognition and signage at the beach wherever possible.
Want to Adopt a Beach? Here's How to Get Started:
Determine who will be your group leader.
Read our Adopt-a-Beach handbook and share it with your group members.
Review the list of beaches available for adoption (below) and pick one!
Fill out an Adopt-a-Beach Application
Once we review your application, we'll contact you to set up a date for your first cleanup. At that cleanup, we'll do an orientation, give you supplies to last several months, and be available to answer any questions.
Beaches Currently Available for Adoption
Adams Point, Durham, NH
Foss Beach, Rye, NH (two sections)
Great Bay Farms, Greenland
Hampton Beach (we've divided the beach into several sections, each approximately 1/3-mile long)
North Hampton State Beach
Beane Farm, Greenland
Peirce Island, Portsmouth (temporarily unavailable due to construction)
Cape Neddick Beach, York, ME
Salisbury Beach (sections), Salisbury Beach, MA
Seabrook Beach (sections), Seabrook, NH
South Mill Pond, Portsmouth, NH
Thanks to the NH Coastal Program and GXT Green for supporting our cleanup efforts.
ADOPTED – THANK YOU!
Bass Beach in North Hampton, NH: 

Robyn Sealock and friends

Cable Beach, Rye, NH: Jenna Waite, Makai Sea Club
Eliot Boat Basin, Eliot, ME: Beth Hirt and family
Flounder Cove in Hampton, NH:  Greenlands Association
Goat Island, Piscataqua River: Bill Hall
Great Island Common Beach in New Castle, NH: Seacoast Mental Health
Hampton River Bridge in Hampton, NH: Chucky's Fight
Hilton Park, Dover, NH: GBCC STEM Club
Sections of Hampton Beach: Linda Rickenbach & UNH Sigma Chi
Long Sands Beach, York, ME: South Berwick Cub Scouts
North Beach, Hampton (South Section): Katie Johnson, Salesforce
North Beach, Hampton (North Section): Max Ronner-Bland, Water Is Life (Hampton 6th Graders)
Pirate's Cove: Seaboard Paddle Club with The Shack Surf Shop
Plaice Cove Beach in Hampton, NH: Ann Cummings, Timberland Company
Sawyer's Beach in Rye, NH: Rye Girl Scouts
Scammell Bridge, Dover, NH: Bill Hall
Seabrook Inner Harbor: NextEra Energy Seabrook Station
Seabrook Beach: Green Sanctuary Committee, First Unitarian-Universalist Society of Exeter and Phillips Exeter Academy
Short Sands Beach, York, ME: Crazy Eights
Wallis Sands Beach in Rye, NH: Club Finz of Southern ME and Seacoast NH & Hannah Thompson