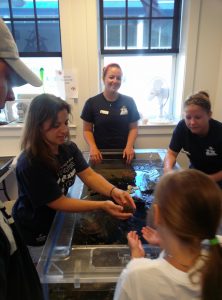 Educator, Blue Ocean Discovery Center
Hampton Beach, NH
June-September
Our Blue Ocean Discovery Center is located in the heart of Hampton Beach. We host about 15,000 visitors each summer, and they range in age from infant to senior citizen.  We are looking for enthusiastic people who enjoy working with the public, especially children.  Our Blue Ocean Discovery Center in Hampton Beach is open from late June to early September. Volunteers will help with marine education at our touch tanks and on the beach, interpreting displays about maritime, natural and local history, answering questions about the local area, and doing children's activities. Education/marine science background is helpful, but we'll provide plenty of hands-on training, along with a detailed volunteer manual.  Minimum commitment of 2 days per week preferred.
Educator, Whale Watches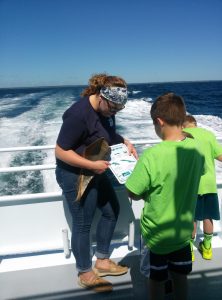 Rye, NH and Gloucester, MA
Mid-May through October

Volunteers help with education and children's activities aboard whale watch boats from mid-May through October. Trips are 4-5 hours long, and a commitment of at least 1 day/week is preferred. Boats operate out of Rye, NH and Gloucester, MA (volunteers have the option of working on one or both).  Marine science background/knowledge of local marine life is helpful, but not required. Must love interacting with people!
Monofilament Recycling Bins
Newington to Hampton, NH
April through October
We are looking for help in maintaining and expanding our monofilament fishing line recycling program. We can use help with this project in contacting marinas, installing bins, promoting their usage and monitoring them (removing fishing line and filling out a short data sheet) throughout the summer and fall.
Microplastics Sampling
Beaches from Seabrook to Rye, NH
April through October
Want to volunteer outside? Interested in marine conservation and research? Help with our microplastics study! We're working with NH Sea Grant to conduct a pilot study on microplastics (small plastics) on New Hampshire beaches.
Samplers needed: This work involves being outside on the beach, collecting and sieving sand samples. Fair warning: the work is conducted outside, in sometimes cold (or hot) weather, and can be a bit tedious, but it is very important! This is the first study of its kind in New Hampshire. The time commitment will vary throughout the year but is about 2-3 hours per sampling session. Below is a short video about the project.
Microplastics Sorting
Blue Ocean Society Office
October-November
We are also looking for volunteers to work indoors to help sort the samples once they are collected. This involves sorting the inorganic and organic material, and classifying the microplastics into different categories and filling out a data sheet. Training is provided on-site.
To Apply
If you are interested in volunteering, please click below to download our volunteer application. You can e-mail the form or mail it to the address below. See information about available opportunities below!
Volunteer Application (PDF) I Volunteer Application (MS Word)