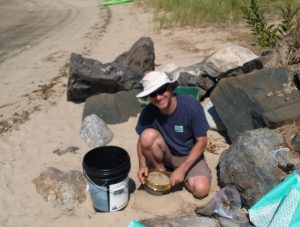 Our volunteer positions are great for those who want to learn about marine life and marine conservation, share their passion for the ocean, or learn about careers in marine science.  We have many opportunities available, and they are listed below. If you already know how you want to help, you can download a volunteer application below!
To Apply
If you are interested in volunteering, please click below to download our volunteer application. You can submit an online application or mail it to the address below. See information about available opportunities below!
Online Volunteer Application | Volunteer Application (PDF)
Click below to learn more:
Seasonal Volunteer Opportunities:
Blue Ocean Discovery Center Educator
Whale Watch Educator
Monofilament Fishing Line Recycling Bin Program
Microplastics Sampling and Sorting
Year-Round Volunteer Opportunities:
Beach Cleanups
Development Intern/Volunteer
Events Planning
Office Help
Promotions
Board of Directors
For more information on volunteering, e-mail volunteer@blueoceansociety.org.