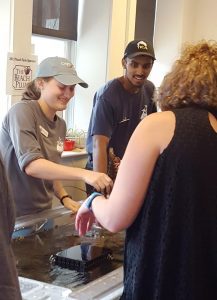 Seasonal Positions
Seasonal Educator – A limited number of part- and full-time education positions are available from May-September. These involve assisting with our in-school education programs and (primarily) at our Blue Ocean Discovery Center in Hampton Beach. Educators must be familiar with Gulf of Maine cetacean, invertebrate (e.g., local tide pool) and algae species and LOVE working with the public, especially children.
At the Center, we focus on educating people about local marine life and human impacts on the marine environment. The Center is open every day during the summer, usually from 12-7 PM.  It can be a very fun, rewarding but also sometimes repetitive position as you'll be talking to hundreds of people every day and often answering the same questions.    Staff members also serve as greeters at the door to encourage passersby to visit the Center, collect admission, sell merchandise and obtain donations.
Interested in this position? Please send a resume, cover letter (including the types of hours you're looking for, i.e., full-time or part-time) and a list of at least 3 references by e-mail to Jen Kennedy at jen@blueoceansociety.org.
Year-Round Positions
None available at this time. Thank you for your interest!