In addition to the many interns and volunteers that help us out each year (which include both men and women!), our primary staff members and research associates are: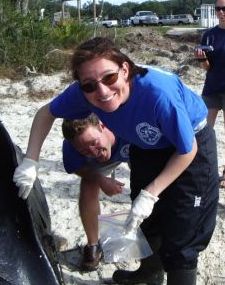 Dianna Schulte – President, Research & Intern Coordinator
Dianna@blueoceansociety.org
Dianna is a co-founder and the President of Blue Ocean Society. She also holds the titles of Research and Intern Coordinator. Dianna has a Bachelor of Science degree in Zoology with a minor in Marine Biology from the University of New Hampshire. During her undergraduate career, she enjoyed two summers taking courses at the Shoals Marine Laboratory on Appledore Island. She also holds a US Coast Guard captain's license for 100-ton vessels. Dianna began her experience in the field of marine science and education including in 1995 serving as deckhand, naturalist and research scientist aboard commercial whale watch boats in NH and MA. She implemented Blue Ocean Society's research and education internship program in 2000, and has given many presentations to schools and groups pertaining to the marine environment.
Dianna has also served as a mate for Lindblad Expeditions aboard environmental cruise ships that traveled to Alaska and Baja California, Mexico, providing passengers with unique experiences in unspoiled natural areas.
For several winters, Dianna migrated south with the whales. In 2003 she joined the right whale aerial survey team managed by Florida Fish and Wildlife Conservation Commission. This team was focused on a project designed to study and protect highly endangered North Atlantic right whales from ship collisions. After many winter seasons in Florida, she decided to move a bit north and in 2009, took the team leader position for a similar right whale aerial survey project managed by Wildlife Trust and located in South Carolina. After four winters in SC, she decided to hang up her wings and stay north year-round. We're thankful she's currently spending her winters back here in NH.
In addition to field research, Dianna coordinates data collection, analysis and cataloging efforts here at Blue Ocean Society.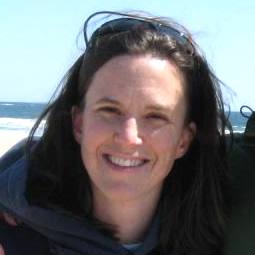 Jennifer Kennedy – Executive Director
jen@blueoceansociety.org
Jen is co-founder of Blue Ocean Society. She has a Master of Science degree in Resource Administration and Management from the University of New Hampshire and a Bachelor of Science degree in Natural Resources from Cornell University.
Jen has worked in an educational capacity over the last 21 years through her work with Blue Ocean Society and aboard various boats, including those run by the Isles of Shoals Steamship Company in Portsmouth, NH, and the Atlantic Fishing and Whale Watching Fleet in Rye, NH. At the Isles of Shoals Steamship Company, she designed and implemented the company's first marine biology internship program and ran the program for six years. She worked with interns to develop the company's first dockside touch tank and implement effective marine education programs aboard the sightseeing tour boat M/V Thomas Laighton.
In June 2001, Jen became the survey director for the marine debris monitoring program at Jenness Beach, and has coordinated monthly cleanups and volunteers at that beach since. In addition to coordinating the Jenness Beach survey efforts, Jen works with local groups and businesses through Blue Ocean's Adopt-a-Beach Program, and coordinates the NOAA-funded Marine Debris to Energy Project, which is conducted in partnership with NH Sea Grant and UNH Cooperative Extension. She also coordinates Blue Ocean's other outreach efforts, including school and group programs, educational programs at our touch tank, and boater education programs.
Jen lives in Eliot, ME with her husband, daughter, dog Colby, two guinea pigs and some tropical fish.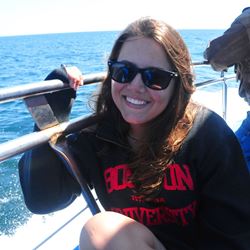 Rebeca Murillo – Program Coordinator
rebeca@blueoceansociety.org
Rebeca was born in San Jose, Costa Rica and grew up in the humid and sunny south Florida suburbs. In a desperate search for foliage and snow,  she moved to Boston to pursue her Bachelors of Arts in Marine Science at Boston University. As an undergrad she had the opportunity to study tropical marine invertebrates in Belize and spent 6-weeks sailing the South Pacific with the Sea Education Association doing research on sustainability in island cultures and ecosystems. She graduated in May of 2015, but was not quite ready to leave the Northeast. After a summer interning at Blue Ocean, she joined our staff as our Program Coordinator and an Educator.
Along with running school programs and beach cleanups, Rebeca is also a Naturalist on the whale watching boats the Atlantic Queen in Rye and the Miss Cape Ann in Gloucester.
Rebeca's hobbies include cooking, binge-watching Netflix and cuddling with her dog, Penny. She now lives in Dover, NH and misses Florida whenever she's out shoveling the snow from her driveway.
Blue Ocean Discovery Center – Hampton Beach, NH
Cathy Silver – Co-founder and Director
Brandy Hardiman – Educator and Volunteer Coordinator 
Amanda Brouillard – Educator
Emily Jaster – Educator
Susan Wilson – Educator
Research Associates
Laura Ganley
Jonathan Gwalthney
Beth Klinefelter
Allison Langone
Abigail Lyon
Kayla MacDonald
Katie Murphy
Melanie White
Susan Wilson