Blue Ocean Society was founded by two whale watch naturalists, Jen Kennedy and Dianna Schulte, who were frustrated with the lack of translation of open ocean research into information that could be used by the public. Jen and Dianna met in 1995 during training for a whale research internship in Gloucester, which they did in winter 1996.
Following the internship, both Jen and Dianna were working on whale watch boats in New Hampshire, collecting unique data about whales on Jeffreys Ledge, which is an important whale habitat  about 20 miles off the coast . They decided to start their own database, and work to translate their on-water experiences into educational programs for schools and the general public. Blue Ocean Society was started in 2001 and achieved non-profit status in 2002.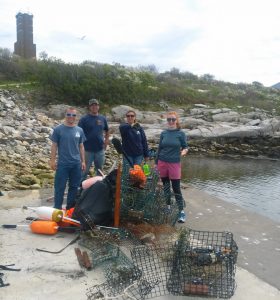 Beach Cleanups
A desire to do more hands-on work to protect marine life turned into a beach cleanup program, which began in 2001 when we started doing regular cleanups at Jenness Beach.  With the support of the New Hampshire Coastal Program, these beach cleanups evolved into an Adopt-a-Beach program to remove debris from the coast before it can harm wildlife, and study trends in marine pollution.  Our cleanups now involve various endeavors, many in partnership with NH Sea Grant and UNH Cooperative Extension. These include a microplastics study, cleanups at the Isles of Shoals and an abandoned fishing gear cleanup project.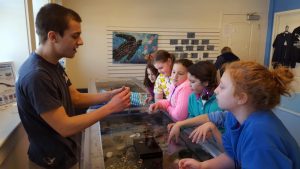 Smaller Marine Life
We've operated educational exhibits and marine life touch tanks in both Portsmouth and Salisbury Beach over the years, but our touch tanks have now hopefully found a permanent home in Hampton Beach. In June 2013, we opened the Blue Ocean Discovery Center, which is located just north of the Sea Shell stage.  There, we educate thousands of visitors about marine life and the importance of protecting the ocean and keeping our beaches clean.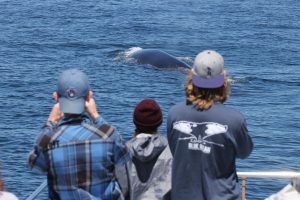 Whale Watches
We've worked with various whale watch vessels over the years. These serve as both a research platform and a way for us to educate more than 20,000 people a year.  We now have naturalists, interns and volunteers aboard the Atlantic Queen and Granite State in Rye, NH and the Miss Cape Ann in Gloucester, MA.